For Life, Reconciliation and Reconstruction of Territories
Gender Focus
HUMANICEMOS DH is unique in its kind, since it is made up of people in the process of economic and social reincorporation. At present, there are 113 people working in our organization, of which 82 are men and 31 are women (73% men and 27% women). Our goal is to reach 146 people by 2020, with a 30% women's participation.
Total Personnel

100%

Men

72.5%

Women

27.5%
Three Strategic Lines
Our strategic horizon is composed of these three lines, each of them with a transversal social, gender and territorial focus.

4500
HOURS OF TRAINING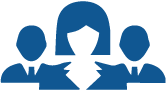 113
Total personnel

4000000
Investment in Euros